---
Fantastic news!
The squinting is gone.
Fantastiske nyheter!
Skjelingen er borte.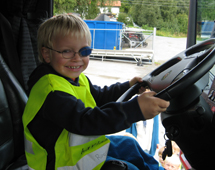 ---


Finally an Eyehelper for kids!
Endelig en øyehjelper som vi vil bruke!

---
The idea

Children who squint go through years of using eye plasters. During this time there are many arguments, a huge consumption of plaster, irritation and possibly inadequate treatment.
We have also experienced this and realize that the treatment
of squinting could be easier, cheaper, more pleasant and most
important greatly improved.
Idéen bak Øyehjelper'n

Mange barn med skjeling har slitt seg gjennom flere år med bruk av øyeplaster. Bak dette ligger mang en krangel, stort forbruk av plaster, irritasjon og usikker behandling.
Vi erfarte dette selv og kom frem til at dette kan gjøres enklere,
billigere, mer behagelig og ikke minst med bedre resultat.